I'm not an official member of Calliope's Photo Friday gang, because I'm too cheap to have bought a digital camera yet. I kept thinking I'd buy one when I was pregnant because then I could have a reason to splurge to get ready for the baby, and prices would keep coming down on the good models. However, the time is rapidly approaching for me to throw that feeble excuse where it belongs, and just buy one, damn it.

But until then, here's my favorite family photo. It's my mom and dad, and my brother and I going to a family wedding. I like it because my dad is all dressed up and looks kind of cool, and is focusing on me which is as it should be(!). My mom is in the photo and is not pulling a face at being photographed [note to those of you who always do this, IT ISN'T FAIR to the rest of us! I don't have enough photos of my mom because she hated being photographed, and then after she passed away it was heartbreaking realizing what we didn't have]. Although my mom does look pretty tired with the dark circles under her eyes, due no doubt to the crying, whining and general carrying on of the cute little person in her arms. Anyway, the main reason I just love this photo is that my brother looks so stupid in it. He, naturally, hates it. Which makes it all the more special to me. And yes, I am showing my age because it is in black and white, but oh well.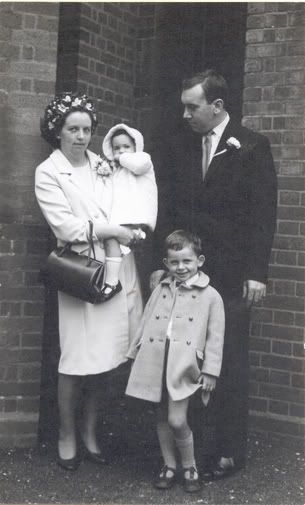 And my current favorite family member, my aunt (yes, that's my arm and butt to the left of the shot). This was taken at our favorite picnic spot in Miami, where we usually go for Thanksgiving and New Year's Day meals. My aunt has been such a rock of support to me, and I basically wouldn't be where I am today without her. And I'm speaking literally here, because there's no way I'd have picked Florida to move to if I hadn't wanted to be close to her.